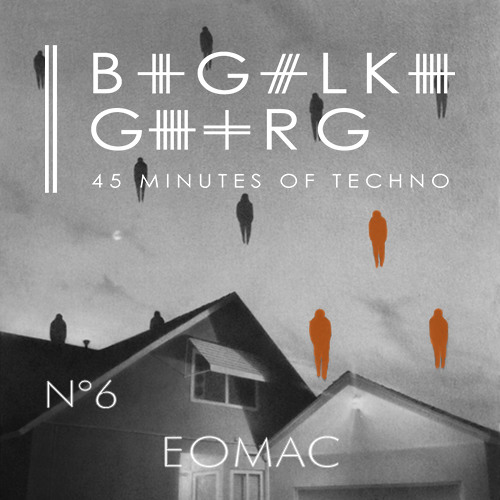 このアルバム、Spectre,はベルリンのKillekill imprintの初めてのLPになります。
SpectreはKillekillより4月に発売予定です。
ダブリンのプロデューサIan McDonnellは、たぶん長期活動中のLakker の半分としてよく知られています。しかし彼はEomacとして活動しこの数年間とても忙しいスケジュールでリリースをこなしています。
彼はとても巧みな技を持ち合わせ、好調に少しジャンルが不透明なトラックをリリースしています。
Spectreは、Killekilにとっても初めてのアルバムです。これから活躍する
Eomacの
、正真正銘の優れものになるでしょう。
このベルリンベースのレーベルKillekillは"本来のテクノから外れたのユニークなミックス、slow-mo lo-fi 聖歌、ブレッキー、外れた感じのダブステップ・レイブエクスペリメンタル"といいます。
このKillekillからのアルバムの発売はEomacにとって、昨年の春、Spoock EP に続く2枚目のリリースになります。
Eomac reveals details for debut album  
Source:
RA

Dublin-based producer Ian McDonnell may be better known as one half of the longtime duo Lakker (who we profiled last summer), but he's also stayed busy in recent years producing as Eomac. He has a knack for crafting off kilter, genre-blurring tracks, and Spectre, which will also be the first album released on Killekill, should show him staying true to form: the Berlin label promises "a unique mix of distorted techno, slow-mo lo-fi hymns, and breaky, wonky dubstep/rave experiments." The album marks the second time McDonnell has linked up with Killekill, following his Spoock EP from last spring.



Tracklist


01. SU Riddim
02. Rainmaker
03. Forest
04. Spectre
05. Rising 3
06. Shell Of Dark
07. Deeva
08. You Hun Ye Gui
09. Crackts
10. Mika Riddim
11. Squink

Killekill will release Spectre in April 2014.
Edit Select
ミュンヘンのレーベル Prologueから、スコットランドのテクノプロデューサーEdit SelectのフルデビューアルバムPhloxが発売です。
グラスゴーのプロデューサーの、Tony Scottは2007年から本当に素晴らしいシングルをリリースし続けています。
ほとんどが彼自身のレーベル、Edit Select Recordsからの発売でした。しかしEdit SelectはLen Fakiの Figureや(Faki は因みに2009年の彼のBerghain 03のミックスで Bauerを加えました)Mark BroomのBeard Manなどからもリリースしてます。
VCMGの re-rubs、Clouds、Speedy Jリミックスの任務などで忙しく過ごしています。
初めてのEdit SelectのLP, Phloxは9つのトラックと、テクノ頭の Dino Sabatini (on "Survivors Of The Pulse") とMarkus Suckut ("Asperity")コラボが入ってます。
このアルバムはScottのミュージカルパレット(アンビアントとのダンスフロア―)トラバースです。
The Scottish techno producer's first full-length will come out on Prologue.
by
Aaron Coultate
Monday, 13 January 2014
the debut album from Edit Select, will see release on Munich techno label Prologue this March.
s
The Glasgow producer, real name Tony Scott, has been putting out no-nonsense singles since 2007, most of which have come out
on his own label, Edit Select Records, though he's also made appearances on Len Faki's Figure and Mark Broom's Beard Man (Faki also included the track "Bauer" on his Berghain 03 mix back in 2009). He's also been busy with remix commissions, turning in re rubs of VCMG, Clouds and Speedy J in recent times. The first Edit Select LP, Phlox, features nine solo tracks plus collaborations with fellow techno heads Dino Sabatini (on "Survivors Of The Pulse") and Markus Suckut ("Asperity"). The album traverses Scott's musical palette, with ambient numbers as well as dance floor cuts.



Tracklist


01. Blissfully Unaware
02. Survivors Of The Pulse feat. Dino Sabatini
03. Receptor
04. Distant
05. Circling
06. Phlox Intro
07. Phlox
08. Downside
09. Bauer Reprise
10. The Passing
11. Asperity feat. Markus Suckut

Prologue will release Phlox on March 3rd, 2014.